See other Randall Amps in the Randall Amp Hall of Fame!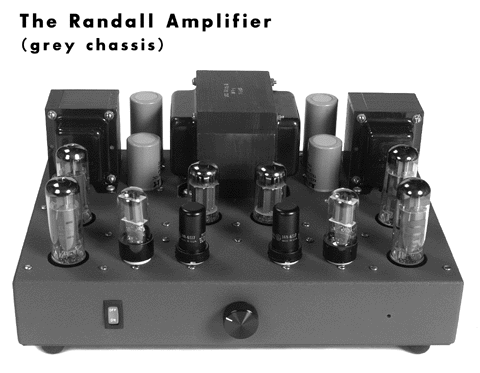 The Randall Amplifier was designed for a construction class at the Randall Museum in San Francisco. Four such classes have been given so far.
The Randall amplifier is no longer available. However, the schematic diagram is in the One Electron Tech Library, for those interested in building it from scratch. The One Electron transformers are available from Antique Electronic Supply.
The Randall Amplifier is a vacuum tube amplifier with the following features:
Stereo, single-ended amplifier, with approximately 13 watts (RMS before clipping) per channel
Built-in volume control
4, 8, and 16 ohm output impedance provided by UBT-1 output transformers
3 dB of feedback provides a balance between dynamic sound and good speaker damping (Damping factor = 3.5)
Isolated power supply distribution between channels, with choke filtering
All tube design (no semiconductors anywhere)
Tube complement:
2 - 6SJ7 (triode-connected) - first driver stages
2 - 6SN7GT (sections paralleled) - second driver stages
4 - 6CA7/EL34 (triode-connected) - output stages
2 - 5AR4/5V4GA - rectifiers
All point-to-point wiring (no PC boards)
Ceramic tube sockets
Heavy-duty 14-gauge steel chassis with subchassis and welded corners
Wrinkle powder-coat finish in either dark gray or black (other finishes available)
The Randall amplifier can be wired for the following line voltages (50 or 60 Hz): 100V, 110V, 120V, 200V, 210V, 220V, 230V, 240V.
---